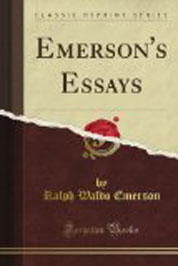 BOOK: Emerson's Essays, by Ralph Waldo Emerson
My mom gave me Emerson's Essays when I was a teenager. I'm just realizing how much of an influence it's had on my own writing in content and form. Emerson was an American orator, poet, and leader of the Transcendentalist movement in the early nineteenth century. He's been called the "voice of renewal." It is clear that he believed in the divine promise in every human being. To him the world about us is the visible appearance of what is invisible.
His essays reiterate the theme of the recurrent miracle of creation that takes place each day in the soul. He makes the reader aware of fresh potentialities in the Self. All this he accomplishes not by argument, but by eloquence. He has been described as "the vista of the timeless caught in a sunburst of words." If you're looking for inspiration, then spend some time with Emerson.
Contributed by Teresa Kay-Aba Kennedy, Ph.D., MBA.
BUY THE BOOK:
BUY FOR KINDLE: THE COMPLETE ESSAYS OF RALPH WALDO EMERSON (Special Kindle Illustrated and Annotated Edition) All of Ralph Waldo Emerson's Unabridged Essays AND Complete … (Transcendentalist | Transcendentalism))
ADDITIONAL CONTENT: Check out articles and tips on Healthy Living and Work & Life. For inspiration, go to our Quote Cards, Postcards, Mini-Escapes, and The Power of… column. Also, check out Power Living TV and The Power List of powerful books, movies and DVDs.
PRODUCTS & COACHING: Check out Dr. Terri Kennedy's Power Living books, CDs and more. Need help reaching your health & wellness goals, clarifying your purpose or taking your work/life to the next level? Find out about our coaching services.
ADD YOUR VOICE: Have you read this book? What did you think? Post a comment.
Comments