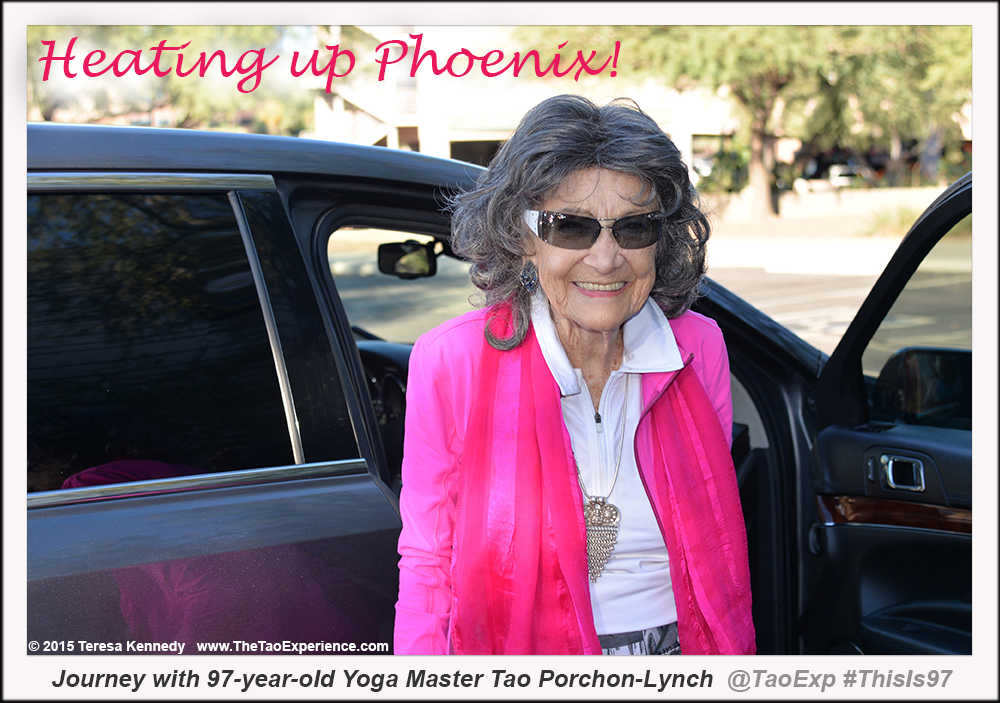 97-year-old yoga master Tao Porchon-Lynch turned up the heat in Phoenix, Arizona. On Thursday, September 24th, 2015, Tao was treated to a delicious meal at Dr. Andrew Weil's restaurant, True Food Kitchen. Her host was Diana Gregory, President and CEO of Gregory's Fresh Market, a division of Diana Gregory Outreach Services. The food was healthy and amazing! We were joined by Phoenix yoga teacher Lorilee Gillmore and her husband, as well as Kim from Chicago.
On Friday, Tao had a full day of events starting with an appearance on Sonaran Living Live ABC15 with host Susan Casper. It was fun for all involved! Watch the segment. Tao also provided some tips for the syndicated show, The List.
Then, Tao was honored at the 4th Annual Senior Awards Luncheon at the Arizona Biltmore. The event was hosted by Diana Gregory Outreach Services Foundation. Susan Casper was the emcee. I had the pleasure of sitting next to her delightful parents. Tao did a book signing for her new autobiography, Dancing Light: The Spiritual Side of Being Through the Eyes of a Modern Yoga Master. A highlight was meeting 114-year-old Bernando LaPallo.
Finally, in the evening Tao taught a yoga workshop at Urban Yoga Phoenix. Even though it was a last minute addition to her schedule, the room was packed with yogis eager to receive Tao's teachings and learn her secrets.
Comments