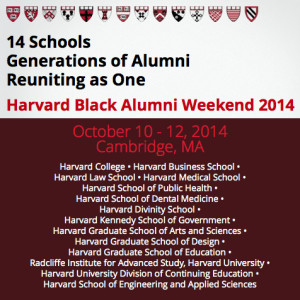 THE BUZZ: 14 Schools, Generations of Alumni, Reuniting as One – that was the amazing theme of the Harvard Black Alumni Weekend. From October 10th through 12th, 2014, I reconnected with friends, met new colleagues, learned interesting things – all in one of my most nostalgic places. Being in Cambridge brings me back to my college and graduate school days. I love the New England environment and have a great fondness for the Harvard community.
This was the first time I ever attended a weekend like this with Black alumni from different generations and the many Harvard schools – from Harvard Law School to the Harvard School of Public Health. With nearly 10,000 Black Alumni throughout the entire Harvard Community, it is a powerful group of African-Americans and this was indeed a landmark historic event.
I attended (most) of the plenary and panel discussions. The President of Harvard Drew Gilpin Faust opened up the weekend with welcome remarks and we heard about the "State of Affairs" at Harvard from legendary professors Henry "Skip" Gates, Jr. (who I bumped into this summer on Martha's Vineyard) and Charles J. Ogletree, Jr. I got the chance to speak with and sit next to David L. Evans, who has been the Senior Admissions Officer at Harvard College for decades.
Given the new film venture I'm involved in (more on that later) I was particularly interested in "Blacks in Technology: The Disparity and the Opportunity," and "Our New Narrative: Black Content & Media for the 21st Century." It was clear that if we pool our expertise, we could do some pretty amazing things in the technology/entertainment space. A group of us based in New York are going to explore options – at least create a stronger connection with each other. It took us all a lot of work to get to Harvard. What is the use of having this amazing network if we don't leverage it. I feel extremely blessed for that gift and possibility!
My classmate and friend Valentino D. Carlotti (MBA '92) was the first recipient of The Reginald F. Lewis Award for Leadership in Business and Philanthropy. Partner and Head of the Securities Division for the Institutional Client Group at Goldman, Sachs & Co., he is a very active philanthropist serving on the Leadership Committee of the Lincoln Center Corporate Fund, the board of American Ballet Theatre, Jazz at Lincoln Center, The Studio Museum of Harlem, Pennsylvania Academy of the Fine Arts, Guild Hall, Prep for Prep, The Boys Club of New York and The Carter Burden Center for the Aging. The Award is certainly well-deserved! Thank you Val for a wonderful upfront seat!! I sat next to the incredible Loida Lewis who presented him the award on behalf of the Lewis Family.
Another friend Brian P. Mathis (JD '92, MPA '92) received the Harvard University Alumni Award for Excellence in Government Advocacy. He is Founding Partner at Pine Street Alternative Asset Management LP. He started his career in the U.S. House of Representatives and the Senate and subsequently served as a political appointee of President Clinton at the U.S. Department of Treasury. He is a member of the Council on Foreign Relations and is an important player behind the political scene. Other honorees included Frank Cooper, III (JD '90) who is Chief Marketing Officer of PepsiCo Global Beverage Group, Antonio L.A. Reid (AMP '98) who is the Chairman and CEO of Epic Records and a legend in the music industry, among others.
We ended the weekend with a Farewell Brunch at the Dudley House featuring The Kuumba Singers. Now this is the soul of Harvard!
Take a listen…
I am proud to have three Harvard affiliations. First, I was on staff at Harvard Business School as a Research Associate ('88-'90) consulting with and performing statistical analysis on Fortune 500 companies and writing case studies for the second year Production Operations Management course, Operations Strategy. Harvard recruited me straight out of Wellesley College. Before working at HBS, I was actually planning to go to law school but then I decided on business school instead. So, I went through the MBA program and became HBS '92 (my second affiliation).
My third Harvard affiliation came as an incredible honor. In 2009, the World Economic Forum (WEF) named me a Young Global Leader (YGL), recognizing my professional accomplishments, commitment to society and potential for shaping the future of the world. I've participated in Forums in Brazil, China, India, Jordan, Mexico, Morocco, Myanmar, South Africa and Tanzania, and have been a discussion leader for the Annual Meeting in Davos, Switzerland. One of the benefits was to do a special executive education program, "Global Leadership & Public Policy for the 21st Century," at Harvard Kennedy School that was created particularly for YGLs. We were briefed on major issues affecting this world by the best brains in the world. How amazing is that?! I've since done similar Global Leadership executive education programs through the WEF at the Yale University Jackson Institute for Global Affairs and the Lee Kuan Yew School of Public Policy in Singapore.
All of those affiliations have given me a wide group of friends. Some were there for this Harvard Black Alumni Weekend such as Ed Duggar, Edge Bullock, Nina Henderson, Steve Wilkinson, Jackie Jones, Allison Johnson, Ron Taylor and many others. Take a peak at some of the pictures:
Comments