THE BUZZ: It's so wonderful being a World Economic Forum Young Global Leader because we get such great invitations! On Tuesday, September 3rd, 2013, I had the pleasure of joining a small group of fellow YGLs at the Australian Consul General's Residence in New York. It was hosted by outgoing Consul General Phil Scanlan AM. Much thanks to YGL Jeremy Balkin for organizing it.
Our core conversation was off-the-record, but what I can say is that I was so impressed by Mr. Phil Scanlan's humble manner and commitment to Team Australia. This was his last week in the post and then he goes back to private life in Australia. He and his wife, American Julie Scanlan, founded the Australian American Leadership Dialogue. They also host the Young Leadership Dialogue and seem very committed to the next generation.
I was an honorary Aussie for the evening since I started school in Adelaide and we were the first African-American family to live on the continent (I know – that seems strange to say). My parents – Dr. James Scott Kennedy and Janie Sykes-Kennedy – were invited by Prime Minister Gough Whitlam to introduce new concepts of people to the continent through media – TV, radio, print, theatre. They taught at Flinders University and also trained some of the first Aboriginal leaders. I look forward to keeping in touch with the Scanlans, and making a trip down under as my mother embarks on a writing project about our experience there over 40 years ago. It should be an interesting "now-and-then" review.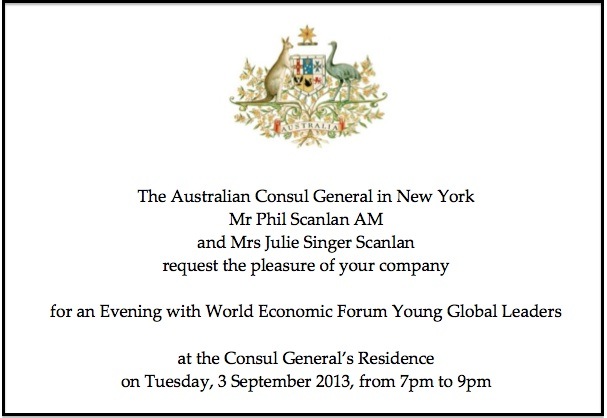 Contributed by Teresa Kay-Aba Kennedy, Ph.D., MBA.
Comments