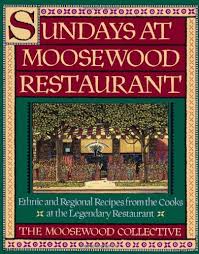 Sundays At Moosewood Restaurant, by Moosewood Collective
All of the cookbooks in the Moosewood Collection are good. They give an inside view of the delicious and healthy vegetarian and seafood dishes from the famous Moosewood Restaurant in Ithaca, New York. This particular cookbook celebrates the diversity of recipes the restaurant serves up every Sunday – an experience of healthy ethnic or regional cuisine. There is something for everyone, such as Indonesian Squash and Spinach Soup from Southeast Asia, Mushrooms Roasted with Pine Nuts from Italy and Senegalese Seafood Stew from Africa South of the Sahara. The book also includes a section on cross-cultural menu planning including an extensive guide to ingredients, techniques and equipment. On top of that, Moosewood Restaurant contributes 1% of its profits from the sale of this book to the Eritrean Relief Fund, which provides food and humanitarian assistance to the Eritrean people. If you're looking to add to (or start) your healthy cookbook collection, I highly recommend adding this one. Also, find out what I ate at Moosewood.
Contributed by Teresa Kay-Aba Kennedy, Ph.D., MBA.
BUY THE BOOK:
ADDITIONAL CONTENT: Check out articles and tips on Healthy Living and Work & Life. For inspiration, go to our Quote Cards, Affirmations, Impressions, Postcards, and The Power of… column. Also, check out Power Living TV and The Power List of powerful books, movies and DVDs.
PRODUCTS & SERVICES: For more, check out Power Living books, CDs and more. Need help reaching your health & wellness goals, clarifying your purpose or taking your work/life to the next level? Find out about our coaching services. To book Dr. Terri Kennedy for a consulting, speaking or media engagement, go to www.drterrikennedy.com.
ADD YOUR VOICE: Have you read this book? What did you think? Post a comment.
Comments