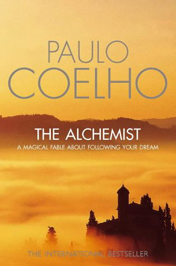 BOOK: The Alchemist, by Paulo Coelho
This enchanting story about a shepherd boy's travels in search of a buried treasure can uncover the treasure within you! It is powerful in its simplicity and a very easy read. This is one of the books I give new clients to spark their minds and hearts.
One of the lessons is: "To realize one's destiny is a person's only obligation." Paulo Coelho is a beautiful storyteller, transforming a very human desire into a spiritual quest. I had the treat of meeting him a few years ago at the World Economic Forum in Davos. This is a book you can finish in a weekend and then keep revisiting. It's definitely must read!
Contributed by Teresa Kay-Aba Kennedy.
BUY THE BOOK:
BUY FOR KINDLE: The Alchemist – 10th Anniversary Edition
ADDITIONAL CONTENT: Check out articles and tips on Healthy Living and Work & Life. For inspiration, go to our Quote Cards, Postcards, Mini-Escapes, and The Power of… column. Also, check out Power Living TV and The Power List of powerful books, movies and DVDs.
PRODUCTS & COACHING: Check out Teresa Kennedy's Power Living books, CDs and more and www.powerlivingmedia.com. Need help reaching your health & wellness goals, clarifying your purpose or taking your work/life to the next level? Find out about our coaching services.
ADD YOUR VOICE: Have you read this book? What did you think? Post a comment.
Comments