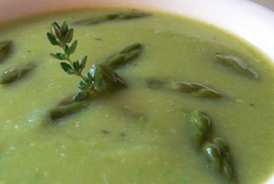 Asparagus is packed with antioxidants and has wonderful anti-inflammatory properties. A delicious Spring cleansing dish is Asparagus Soup. Try out this recipe below:
ASPARAGUS SOUP
Ingredients: (serves 4)
1 pound fresh asparagus, rinsed
6 cups vegetable or chicken stock/broth
1/2 cup minced shallot
1 cup minced leeks, rinsed whites only (could substitute 1 grated potato)
1 garlic clove, minced
Sea salt, to taste
Freshly ground pepper, to taste
Plain low-fat yogurt or low-fat sour cream, for garnish (optional)
Grated lemon peel, for garnish (optional)
Snipped fresh dill, for garnish (optional)
Directions:
1. Peel and trim the asparagus, reserving the trimmings.
2. In a large saucepain, bring stock or broth to a simmer. Add trimmings and let stand 15 minutes.
3. Rinse spears, pat dry and cut into 1 1/2 pieces, reserving tips.
4. Strain stock or broth into a large saucepan and add the asparagus stalks, shallot, garlic, leeks or potato, and salt and pepper to taste.
5. Bring the liquid to a boil over high heat and simmer, stirring occasionally, for 25 minutes, or until asparagus is tender.
6. In a saucepan of boiling salted water blanch the asparagus tips until just tender and drain.
7. In a food processor or blender, puree the soup in batches until smooth. Taste for seasoning and adjust if necessary. Return to saucepan and heat until hot.
8. Ladle soup into bowls and garnish with reserved asparagus tips, lemon peel, dill and yogurt, if desired.
TAKE CONTROL OF YOUR HEALTH: If you want to detoxify your body and get a jumpstart to a healthier life, read the Seven-Day PWR Detox book. If you need help reaching your goals, sign up for a free consultative interview and learn more about our wellness coaching.
Contributed by Teresa Kay-Aba Kennedy, Ph.D., MBA. Part of the Power Living® Empowerment Series.
Comments